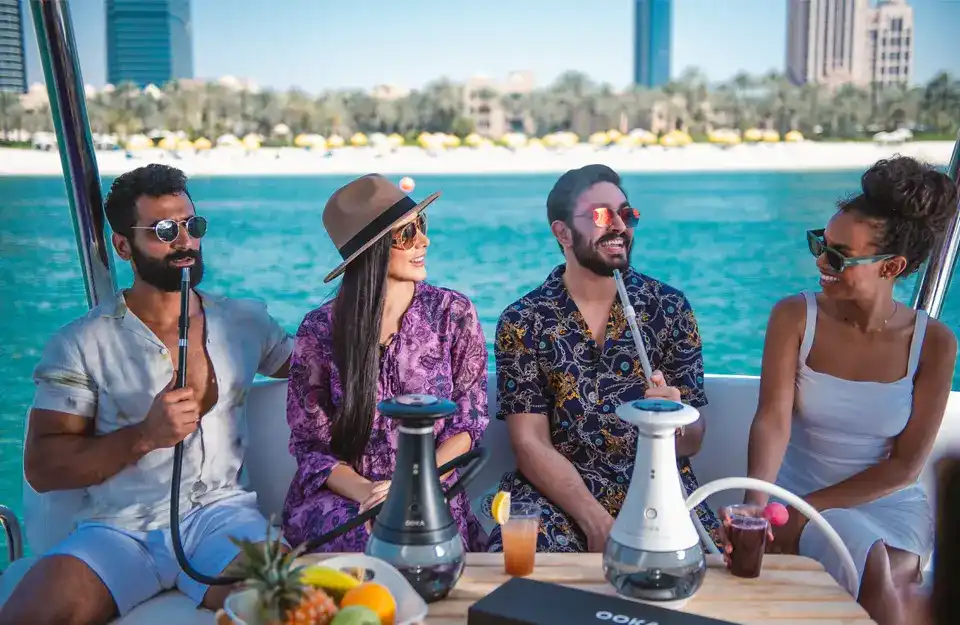 Enjoy Eid Gatherings Differently with OOKA
Eid is a special time of celebration and connection with loved ones. It is always the best time to meet with friends and family after losing touch with them through our busy lifestyles. This year, you can make your Eid gatherings truly extraordinary with OOKA, the ultimate choice for elevating your festivities. Discover new ways to enjoy the spirit of Eid and create lasting memories that will be cherished for years to come. From gifting OOKA to indulging in exquisite flavors to even enjoying free home trials, OOKA offers a unique and unforgettable experience for everyone.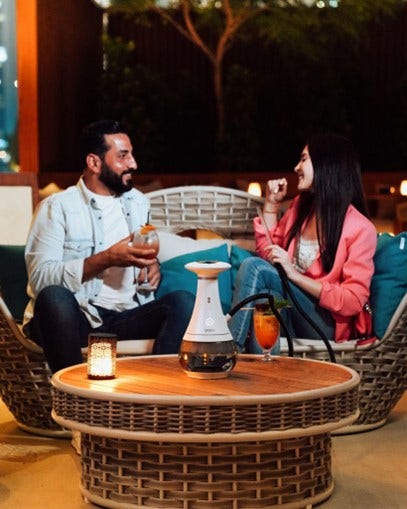 Treat Your Loved Ones with OOKA As Their Eid Gift
Looking for the perfect gift to surprise your loved ones this Eid? Look no further than OOKA. Treat them to the ultimate shisha experience with OOKA. Whether it's for a shisha enthusiast or someone new to the world of flavors, OOKA charcoal-free shisha is a gift that will be appreciated and enjoyed. Make this Eid extra special by sharing the gift of OOKA and creating moments of delight and connection with various flavor options catering to all tastes and preferences.
Experience OOKA's Unmatched Delight, Right at Home
Curious about the OOKA experience but not ready to commit? OOKA portable shisha has got you covered with free and safe shisha home trials. This Eid will be the ultimate 2 in 1 chance for you to enjoy the convenience of trying OOKA free trials in the comfort of your own home, without any obligations.
Immerse yourself in the soothing aroma and delightful shisha flavors including the best Al Fakher flavors, Zodiac and Shisha Kartel flavors, as well as pod bundles that OOKA offers. Discover why it is the perfect addition to your Eid gatherings and enjoy the opportunity to experience OOKA firsthand and see why it stands out from the rest as the cleanest way to enjoy shisha with less toxicants and zero carbon monoxide*.
*Based on laboratory aerosol tests conducted, CO was below the laboratory detection limit of 0.000097 mg/ml. This does not mean that OOKA is risk-free.
Delight Your Senses with OOKA's Exquisite Flavors
Elevate your Eid experience with OOKA's exceptional range of flavors. From traditional favorites to unique blends, our shisha flavors contain real shisha molasses and are carefully crafted to captivate your taste buds and enhance your festive celebrations. Submerge yourself in a world of tantalizing aromas and explore the rich and diverse flavors OOKA has to offer, including Al Fakher Two Apples, Shisha Kartel Macho Maniac, and the zero-nicotine Zodiac Perseus. With each puff, savor the essence of Eid and delight in the remarkable taste sensations.
Don't Miss Out On OOKA's Exclusive 2023 Eid Offers & Bundles
Celebrate Eid in style with OOKA's exclusive offers that will elevate your gatherings. Take advantage of our limited-time Eid bundle discounts by using the limited-time code "EID200" at checkout. These special discounts on our non-tobacco range provide exceptional value and allow you to create memorable shisha experiences during your Eid celebrations, and can also make the most heartwarming gift options for your shisha-loving friends and family.
Travel Bundle
Introducing the Travel Bundle, our first accessory of many to be launched and the perfect way to transport your OOKA and pods safely. Ultra-convenient for on-the-go shisha enthusiasts, this bundle includes 1 backpack, 1 OOKA device, 8 OOKA pods, and, as a bonus, 4 free Zodiac nicotine-free pods. Normally priced at AED 2,089, the Backpack Bundle is now available for AED 1,889. Inundate yourself in the convenience and style of OOKA with this exclusive offer.
Double Up Bundle
For those who are planning to be on the move this Eid, the Double Up Bundle is an ideal option. This bundle includes 1 backpack, 2 OOKA devices, 12 OOKA pods, and an additional 6 free Zodiac nicotine-free pods. Priced at AED 3,708, you can now enjoy the Double Up Bundle for AED 3,508. Embrace the freedom of experiencing OOKA wherever you go for up to 6 hours with 2 OOKA shisha heating devices and make your Eid travels even more enjoyable.
Three's a Party Bundle
Hosting a grand Eid celebration? Look no further than the Three's a Party Bundle. This extraordinary bundle includes 2 backpacks, 3 OOKA devices, 20 OOKA pods, and an additional 8 free Zodiac non-nicotine pods. Normally priced at AED 5,797, the Three's a Party Bundle is now available for AED 5,597. With this bundle, you'll have everything you need to create a shisha extravaganza that will leave a lasting impression on your guests. It's always a win-win situation; you can celebrate all night using the 3 devices or leave one as a gift for your best friend and still celebrate all night with the other 2 rechargeable shisha devices.
Embrace the opportunity to save and create unforgettable shisha experiences with our premium devices and selection of flavors. Through OOKA, you can order your preferred bundles before they run out. Place your order before 3 p.m. and enjoy the convenience of receiving your OOKA bundle the same day to elevate your Eid celebrations without any delays.
Embark on an Eid Adventure: Visit OOKA Lounge Partners
Not a stay-at-home person? OOKA has partnered with numerous well-known shisha lounges in Dubai including Atlantis the Royal, Ce La Vi, Huqqabaz, Flair at Ritz Carlton DIFC, SLS Hotel and more. For those who crave the vibrant ambiance of UAE shisha lounges, OOKA invites you to embark on an unforgettable Eid adventure to discover our network of exclusive lounge partners and experience the OOKA difference. This Eid is the perfect time for you to engage yourself in a welcoming atmosphere and indulge in a wide array of exquisite Shisha flavors empowered by partner brands including Al Fakher shisha. Let the OOKA essence into your delightful Eid celebration.
With OOKA, the ultimate shisha alternative for those who love the cloud, you can transform your Eid celebrations into unforgettable experiences. Whether you choose to enjoy OOKA at home or explore our partner lounges, you can definitely dip in the essence of Eid and make memories that will be treasured for a lifetime.
Got any other tips we missed out on? Let us know in a comment below!