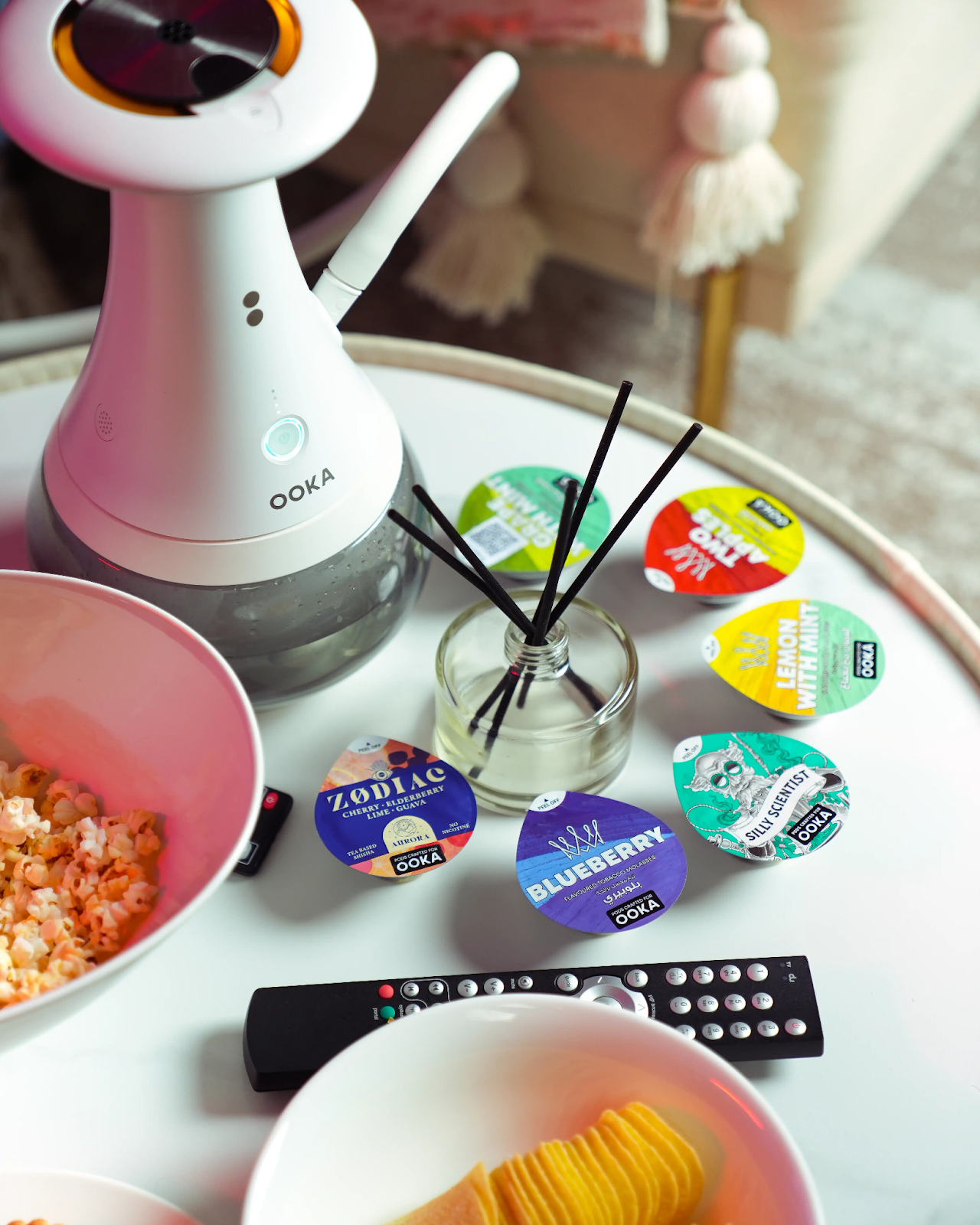 The Perfect Pairing: OOKA and Movie Nights for Cinema Enthusiasts
By
Admin
/ October 4, 2023
If you're a movie lover looking for a unique and immersive experience, OOKA and movie nights might be precisely what you need. This combination of aromatic shisha flavors and captivating films creates a magical evening that's hard to forget. This fusion of different elements stands out for its extraordinary appeal in a world full of entertainment options.
Have you ever felt the enchantment of getting immersed in a captivating movie? If you're eager to elevate your movie nights, we have some thrilling updates to share! Introducing the OOKA device and movie nights - a game-changer that will enhance your viewing experience. Get ready to elevate your movie nights to a whole new level! Let's explore how this perfect pairing can elevate your cinematic experience.
Setting the Scene
First, let's talk about the ambiance. Movie nights are not just about the content on the screen; they also revolve around establishing an inviting atmosphere. What could be more inviting and cozy than enjoying some charcoal-free shisha? OOKA is known for its quality and craftsmanship, with a unique design that is both charming and stunning to complement any setup. OOKA is the best shisha alternative that can be used indoors or outdoors, making it the perfect choice for your movie night.
Choosing Your Flavor
And here comes the tasty part—choosing your shisha flavor. Just like selecting a movie, this can be a fun and personalized experience. Whether you're in the mood for something sweet, like Al-Fakher's blueberry flavor, or prefer tea-based Zodiac nicotine-free, OOKA offers a wide range of high-quality shisha molasses to suit your palate. Picture yourself puffing on a refreshing minty shisha while watching a suspenseful thriller—it's a sensory delight!
Sharing the Fun
One of the things that makes movie nights so enjoyable is sharing the experience with friends or loved ones. OOKA, the best portable shisha, fosters connections and sparks conversations. Gather your movie-loving crew, shop flavors, stock up on your favorites depending on how long and how many movies you're planning to watch, and let the conversations flow as freely as the shisha clouds. Discuss plot twists, debate character motivations, or even share your favorite movie quotes—all while enjoying the soothing ritual of shisha with multiple OOKA devices in the scene.
Now, with the all-new Premium 360° OOKA Rotating Base available, you can take your movie nights to the next level by conveniently passing the OOKA around, ensuring everyone gets their fill of flavor and fun.
Enhancing the Movie-Watching Experience
Now, let's talk about how OOKA can enhance your movie-watching experience. The act of smoking shisha can be incredibly relaxing. As you take slow, deep inhales, you'll find yourself sinking deeper into your movie's world, immersing yourself fully in the story. It's like a mini meditation session that perfectly complements the cinematic journey.
Snacks and Sips
Of course, no movie night is complete without some delicious snacks and dips. Popcorn, nachos, and candy are classics, but you could also get creative and whip up some themed fruity cocktails to enjoy alongside your OOKA. It's all about making the experience as enjoyable as possible.
Movie Marathon Magic
If you're feeling particularly ambitious, why not turn your movie night into a marathon? Pick a movie series or a director's filmography, load up on your favorite OOKA pod bundles, and settle in for a long cinematic journey. With OOKA and the right company, you'll be amazed at how quickly time flies by.
Responsible Enjoyment
As we wrap things up, we know how important it is to have fun. Remember to smoke in a well-ventilated space and ensure that you meet smoking age requirements. Always be mindful of those around you. Not everyone may share your enthusiasm for shisha. It's always considerate to designate a specific area for your shisha and movie sessions where everyone can relax and have a good time. OOKA can simplify this task, offering the flexibility to be used in both indoor and outdoor settings while producing zero CO2 emissions due to the absence of charcoal.
In conclusion, if you're a cinema enthusiast looking to elevate your movie nights, OOKA is the perfect companion. It adds an extra layer of enjoyment to your cinematic adventures, creating a relaxing and social atmosphere that enhances the overall experience. So, next time you plan a movie night with friends or even a solo movie marathon, bring out your charcoal-free shisha and savor the perfect pairing of great films and flavorful shisha. Get ready to immerse yourself in the magic of cinema like never before!